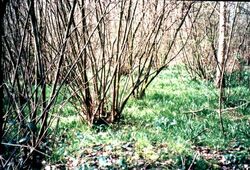 Woodland management
is the practice of managing
woodlands
, whether for the maximising of
timber
production, or for the conservation of wildlife.
A well-managed woodland, such as one in which coppicing is practiced, can produce a steady supply of small timber (suitable for fencing, broom handles etc.). With its mixture of open glades, partial and total tree cover, it can also maintain a wide variety of environments for woodland species of birds, insects and flowers.
Other woodland management techniques include pollarding, shredding and snigging.
Ad blocker interference detected!
Wikia is a free-to-use site that makes money from advertising. We have a modified experience for viewers using ad blockers

Wikia is not accessible if you've made further modifications. Remove the custom ad blocker rule(s) and the page will load as expected.