Template:Welcome Vic Gaffney (born 1959) is an ecologist, writer and exponent of the permaculture concept.
Template:Infobox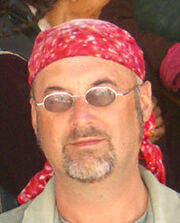 Born Victor Lawrence Gaffney on 25 May 1959 in Dandenong in the State of Victoria, Australia.
Currently resides in Kullu in the State of Himachal Pradesh, India.
Founder and Trustee of Permaculture India (founded 2008)
Ad blocker interference detected!
Wikia is a free-to-use site that makes money from advertising. We have a modified experience for viewers using ad blockers

Wikia is not accessible if you've made further modifications. Remove the custom ad blocker rule(s) and the page will load as expected.