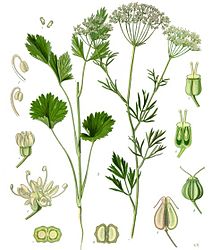 Anise (commonly called aniseed) is a medicnal herb that grows white flowers anually. It is planetd in early spring, as soon as the ground warms up, then it should grow to about 18 inches. The anise seeds are used to make many teatments icluding cough treatment, epilepsy treatment, sedative, antiseptic and more.
Ad blocker interference detected!
Wikia is a free-to-use site that makes money from advertising. We have a modified experience for viewers using ad blockers

Wikia is not accessible if you've made further modifications. Remove the custom ad blocker rule(s) and the page will load as expected.